Today is the final week of guest bloggers for Friday Favorites (sniff!) but we are going out with a bang with the wonderful
Betsy from The Dainty Daisy
!
Betsy
is an "old" friend (we have the same hometown and high school) and a fellow crocheter. You HAVE to see the adorable items she makes for little ones, almost makes me want to have one :) But truly, she is awesome and very talented!
Hi all! Big thanks to Diane for asking me to be a part of Friday
Favorites! I have never guest posted before, so this is way fun
and exciting!
Much of my favorites right now tend to be surrounding food and
maternity items. I am 12 weeks pregnant and I am a bit focused
on all things pregnancy, but I will try to keep it to a minimum :-)
First, I fell in love with these last week. Maternity
leggings. Holy amazingness. I don't tend to be one that
likes a lot of elastic around my waist to begin with. This tends
to be my problem area and elastic seems to emphasize the love handles
making them not so lovely. I have learned to like leggings, but
fell in love with these! Nothing like a big ol' panel to avoid
the elastic squeeze. Plus, the bloated belly loves it too :-)
My next favorite I have been loving is the Burger King Original
Chicken Sandwich. Yes, I know, for all of you health nuts out
there this is terrible and offers very little nutrition, however, my
taste buds dance with joy when I eat one! I have always loved
this sandwich since I was a kid and I am so glad it is still sticking
around. It may be my all time favorite fast food sandwich.
Yummers!
I am also loving the thought of this in my yard this summer.
Michigan has been a nasty mess of rain and wind the past couple of
weeks, so I have been dreaming of flowers and sunshine. I love
getting the flowers for my house each year. This year will be
extra fun because we have a new area to landscape in our backyard.
Next, I am loving this color scheme. We are in the process of
finishing our basement and I am thinking I am going to have to paint
the walls gray and add in some yellow accents! I can't wait to
play around!
Lastly, I am loving my Thirty One bags. I don't tend to spend
much on bags and purses, but this was the best place to put my
money! I have gone to two parties now and have not been able to
resist 5 of their bags! I got one for my crochet items, one for
a diaper bag, a thermal tote for picnics, a laundry tote, and an
adorable purse! I have become obsessed! Good quality and
adorable patterns. LOVE THIS STUFF!
Thanks so much to Diane for having me! This was fun and I always
LOVE sharing things that I LOVE!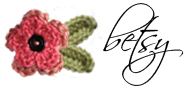 Thanks
Betsy
and all the guest bloggers!
In case you missed the guest editions here they are again...
Next week you are stuck with me again for Friday Favorites :)